Welcome to our online booking system! | Willkommen in unserem online Buchungssystem!
For group & standing reservations please contact us via email.
Für Gruppen- und Langzeitreservierungen schreiben Sie uns bitte eine E-Mail.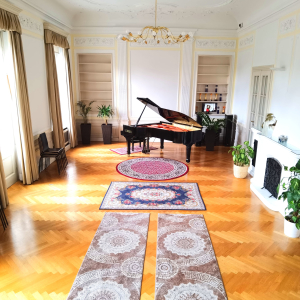 Jacquin-Hall
Our beautiful Jacquin Hall (formally known as Baroque Hall) with its 53m² can accommodate up to 30 people and is, therefore, a suitable location for smaller events. Furthermore, it harbours a great grand piano to make wonderful music.
****************************************************
Unser wunderschöner Jacquinsaal (ehemaliger Barocksaal) mit seinen 53m² kann bis zu 30 Leute beherbergen und ist daher der perfekte Ort, um kleinere Veranstaltungen abzuhalten. Außerdem befindet sich ein Flügel darin, mit dem großartige Musik gemacht werden kann.